Financial Consulting Dallas, TX

If you're running your own business, you know that the uniqueness of your business is something that defines you. You want to stand out as someone who serves your clients in your own way. However, when it comes to business finance, it often pays to go with the tried and true. That's why it's important to realize that in managing your company's finances, you're never alone. Taking advantage of financial consulting services like those offered by the hGroup, LLC is simply a smart thing to do.  Let our experts set up an effective financial system for you while you venture out creatively into the business world.
Business Financial Consulting
Often, the best way to do something right is to begin by looking at others who've already done it right. That's how companies like the hGroup, LLC build their expertise – by observing what the best professionals in the field are already doing.  At hGroup, LLC, we're familiar with the best practices that are used in business financial planning.  We can use our experience with those best practices to bring them to your business and make them work in your one-of-a-kind setting.  We can also help you make sure you're compliant with financial regulations and help you with every step of your financial planning.
Project Forecast Financial Models
When you're growing a business, you need to look ahead.  But as it has been said, those who fail to plan, plan to fail, and this is especially true in a business setting.  Don't just guess about whether your ideas will work or not.  When you're planning the future of your business, find out ahead of time which new projects are likely to work, and why. You're at the helm of your ship with your creative ideas, but a financial consulting services company like the hGroup, LLC can let you know what kind of waters you're sailing into.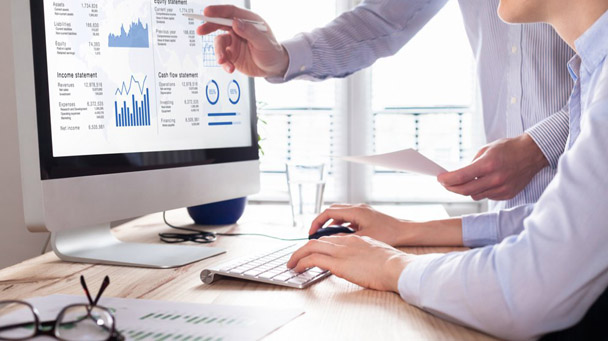 Business Software Selection
With each passing day, the business world becomes more and more wired, and keeping up with developments in business software is a real challenge.  However, if you simply buy the lowest priced software available, you and your employees may not be satisfied when you find out how poorly it performs. Hiring an expert financial consulting services company like the hGroup, LLC to evaluate your options ensures that you'll get the best business software for your company.
Call to Schedule a Free Consultation with a Financial Consulting Services Company Today
If you're running a growing business and need expert advice on the financial end of it, call to schedule a free consultation with a financial consulting services company today. The hGroup, LLC is the resource that can make a huge difference for you.  We serve Dallas, Fort Worth, Arlington, Irving, Carollton, Coppell, Farmers Branch, Addison, Plano, Frisco, Hurst, Euless, Bedford, Denton, Allen, Richardson, Cedar Hill, Rockwall, Grand Prairie, Garland, Mesquite, Rowlett, McKinney, Southlake, Colleyville, Little Elm, Dallas County, Collin County, Denton County, Tarrant County, Rockwall County, and Ellis County.  Call us at (972) 919-6105 and let's talk about how we can help.