Fractional CFO and COO Services in Dallas, TX
As you start your new business and it begins to grow, you're excited to see some of your most daring dreams come true. However, when that business starts to get bigger, so do your financial issues. You have to think about your future financial needs, about issues that may arise in your dealings with customers/clients or vendors, and about how to help your accounting staff deal with increasingly complex financial matters. Hiring a full-time CFO can become very expensive and may not yet be a practical solution. That's why you may want to talk hGroup, LLC about one our financial consulting professionals to assist you on a fractional or part-time basis in growing your company.
Help from a Professional
The hGroup, LLC offers a wide range of services including CFO and COO services that can truly help you organize your growing business and its financial foundation. Our financial consulting company can offer you the services of a part-time or interim CFO, who is someone who can get your business's finances on track so you can focus on growing your company and serving your clients. Outsourced or fractional CFO services will evaluate your unique business setting and make recommendations to help you comply with financial regulations as well as enable your business to flow more efficiently, effective and profitable.
Dealing with Business Financial Relationships
Sometimes a business goes through a crisis situation due to death or loss of a key management position.  In a situation like this, hGroup, LLC can provide an experienced professional to be a fractional or interim COO until the business is in a position to find a permanent replacement.  An interim COO can be the face of the company as it navigates through a difficult period, assuring customers, employees, lawyers and bankers that the business is continuing to operate as usual.  hGroup, LLC makes it possible for you to hire an interim COO to deal with all these relationships and continue the good work of the company.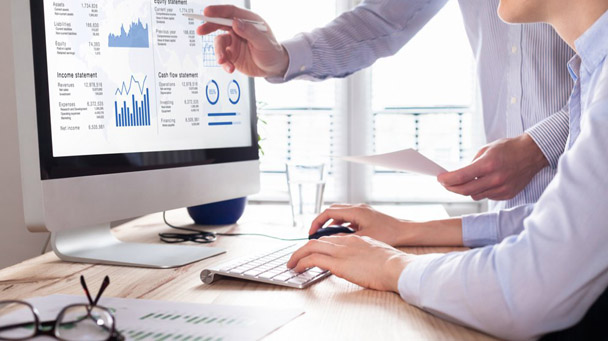 Preparing Effective Forecasts
As your business grows it becomes more important to be able to accurately forecast your future needs in terms credit, facilities and personnel.  Planning for these needs becomes critical to the future success of your company. The hGroup, LLC and its experienced professional accountants can prepare a financial model for your unique business that will enable you to plan and prepare for future growth needs in a timely manner.
Call to Schedule an Appointment for a Free Consultation with a Full-Service Financial Consulting Services Company Today
When you're looking for some expert financial leadership to help your business grow successfully, call to schedule a free consultation with the hGroup, LLC. With our variety of services, we've got what you need. We serve Dallas, Fort Worth, Arlington, Irving, Carrollton, Coppell, Farmers Branch, Addison, Plano, Frisco, Hurst, Euless, Bedford, Denton, Allen, Richardson, Cedar Hill, Rockwall, Grand Prairie, Garland, Mesquite, Rowlett, McKinney, Southlake, Colleyville, Little Elm, Dallas County, Collin County, Denton County, Tarrant County, Rockwall County, and Ellis County.  Call us at (972) 919-6105 and let a professional get your business's finances on track.